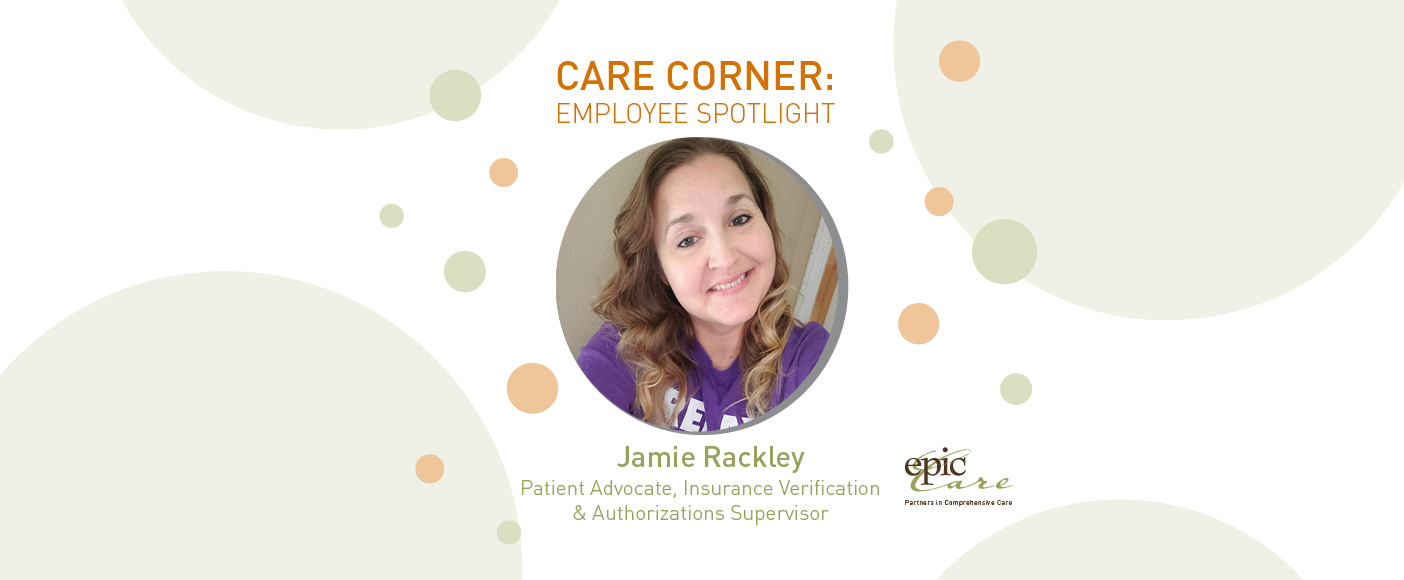 CARE Corner: Employee Spotlight, Jamie Rackley
Through our CARE Corner spotlight, we're proud to shine a light on our exceptional team!
Meet Jamie Rackley, our Patient Advocate, Insurance Verification & Authorizations Supervisor. Jamie has been with us for 13 years and supports the American Cancer Society's Relay for Life of the Delta. Over the years, her role evolved from an Epic Care Relay team member to event lead, responsible for planning and organizing the event, including all the volunteers and everything in between. In addition to being captain of our Relay team!
Q: How did you become involved with the Relay for Life?
A: It was when I started at Epic Care. The team captain that year asked me to come. Once there, I was hooked. Seeing our patients celebrated and honored. Being able to give back in a different way to our patients was exciting. Over the years, it has deepened with the loss of family and friends. Then my own cancer diagnosis ignited a need to spread the word about the importance of screenings. The greatest weapon we have against cancer is TIME. The sooner we know, the more options we have.
Q: What does the Relay for Life mean to you?
A: I've seen cancer from every angle. I have lost love ones, advocated for our patients, and I have had cancer myself. Seeing the devastating effects this horrible disease has instilled a passion in me to FIGHT and raise awareness. Relay for Life is a way to honor those we have lost, support those currently fighting, and celebrate those who have beat it. It's a community event that allows us to spread the word about support and resources available from ACS and the importance of screenings and prevention. The funds raised also go toward groundbreaking research. 
Q: What is something about the Relay for Life that might surprise people?
A: We have food, live music, fun family activities, and it's FREE!
Q: Best moment from a Relay for Life event?
A: There are so many, but I remember I didn't talk about my own cancer experience for many years. I was then asked a couple of years back to be a speaker. It was hard, but I did it. After a woman came up to me and told me she had skipped her screenings for years, but after listening to me, she was scheduling them and gave me a huge hug thanking me. This was such a special moment for me.
Epic Care is proud to support the American Cancer Society Relay for Life of the Delta and our Epic Care Relay team! And we could not be more honored to work alongside employees like Jamie!
Thank you, Jamie, for sharing your hope and all you do for our patients and community.