Epic Care Joins the American Cancer Society on Giving Tuesday!
Giving Tuesday is a global generosity movement unleashing the power of people and organizations to transform their communities and the world. American Cancer Society has launched #GivingTuesdayNow on May 5, 2020 , a global day of unity as a response to the unprecedented need caused by COVID-19.
Click the image below to listen to Dr. Irene Lo share her story during COVID-19. Thanks Dr. Lo for your great work in the community and unwavering support of our patients — we appreciate you!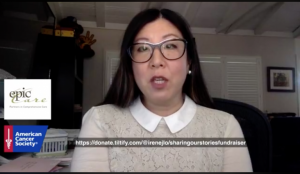 For more information about the Giving Tuesday movement or to donate to the cause, please visit www.cancer.org. Thank you!