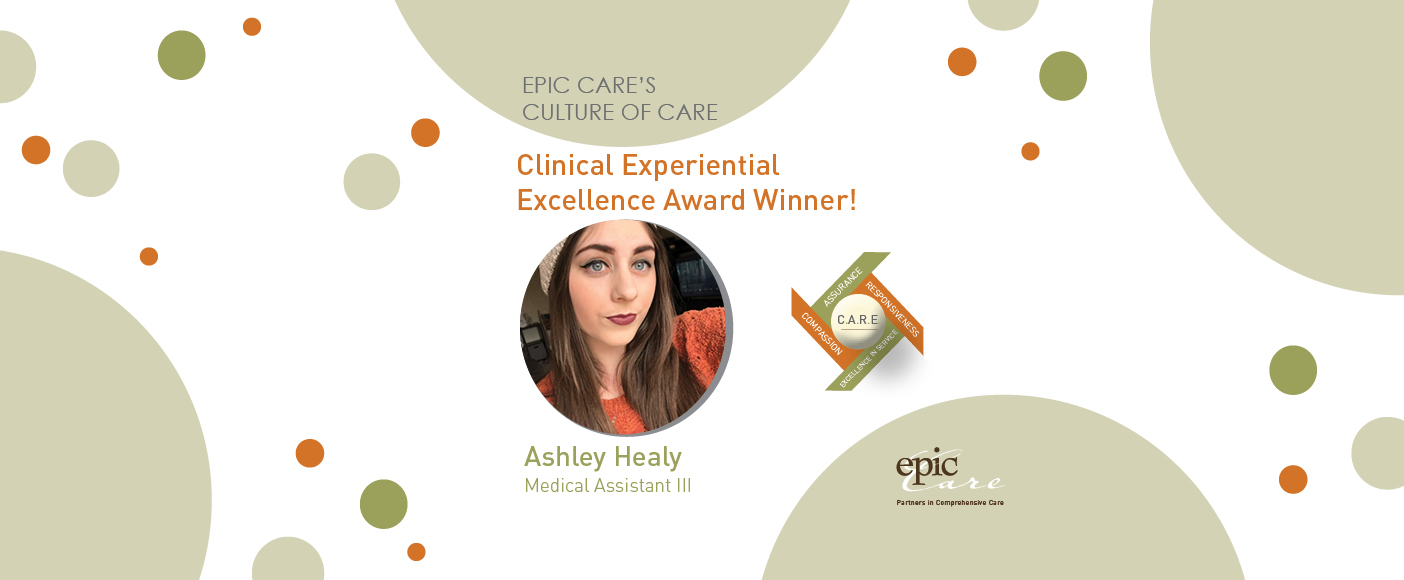 Epic Care's Culture of CARE Clinical Experiential Excellence Award Winner! – Ashley Healy
Congratulations Ashley, on winning our Culture of CARE Clinical Experiential Excellence Award! You're a shining example of the values we stand for.
Providing an excellent patient experience is vital to Epic Care's ability to fulfill our mission to deliver high-quality care and help our patients live healthier, happier lives. Through our Culture of CARE Clinical Experiential Excellence Award program, we create and enhance the collaboration amongst our physicians and clinical team members to achieve experiential excellence for our patients.
Ashley Healy is a Medical Assistant III from our Pleasant Hill Care Center. Ashley is recognized for her positive attitude, commitment, and leadership at Epic Care. She is described as someone eager to grow and learn, taking an active interest in bettering herself. Ashley is quick to share her knowledge and skills by helping train new MAs. Her team can always count on her! Read on to learn more about Ashley:
Q: How long have you been with Epic Care?
A: For almost two years now.
Q: What does our Culture of CARE mean to you?
A: Culture of Care means fostering a space where everyone enjoys the time they spend working at Epic Care. A great deal of our time is spent in our office, so I believe it's important to look forward to your day and feel comfortable and celebrated.
Q: What is the most rewarding part of your job?
A: Helping my other coworkers do their best for the patients. When I see them work so well with our physicians and patients, it lightens up my entire day.
Q: If you had to delete all but three apps from your smartphone, which three would you keep?
A: I would keep Facebook to communicate with my Oklahoma family, Amazon because I always seem to be online shopping, and Spotify because I always have to listen to my music!
Q: What is your favorite time of the day and why?
A: My favorite time of the day is the early morning. I like my peaceful mornings to collect myself and plan out my day before it begins!
Thank you, Ashley, for representing our Culture of CARE in all you do!