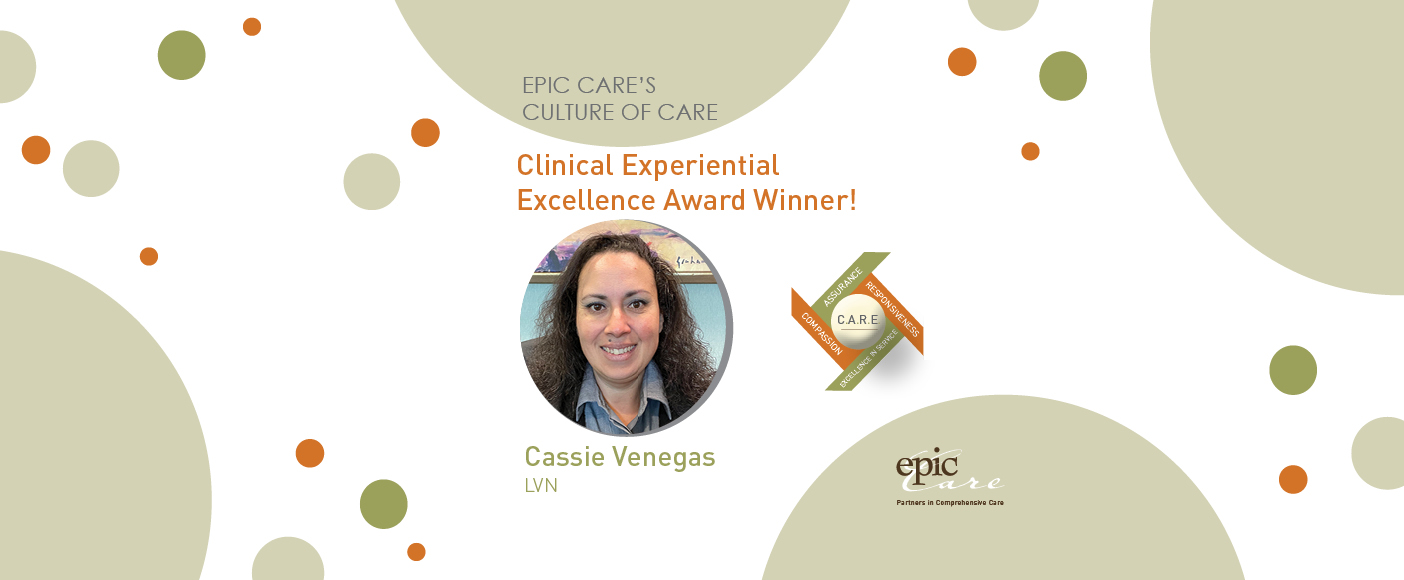 Epic Care's Culture of CARE Clinical Experiential Excellence Award Winner! – Cassie Venegas
Congratulations Cassie, on winning our Culture of CARE Clinical Experiential Excellence Award! You're a shining example of the values we stand for.
Providing an excellent patient experience is vital to Epic Care's ability to fulfill our mission to deliver high-quality care and help our patients live healthier, happier lives. Through our Culture of CARE Clinical Experiential Excellence Award program, we create and enhance the collaboration amongst our physicians and clinical team members to achieve experiential excellence for our patients.
Cassie Venegas is a LVN from our Walnut Creek CyberKnife & Surgery Care Center. Cassie is recognized for her top-notch reliability in supporting our physicians and colleagues. She is described as a teammate who exudes the Culture of CARE. She engages with her peers and our physicians positively and uplifts, setting the bar in practice for ensuring each patient has the care, follow-up, and communication needed to succeed. Cassie's peers look up to her and can confidently count on her support in the office. Read on to learn more about Cassie:
Q: How long have you been with Epic Care?
A: Just about two years.
Q: What does our Culture of CARE mean to you?
A: It means providing the best service and support to staff and patients every day. It's patient care that goes above and beyond to help patients get what they need or provide a listening ear allowing them to be heard. It's supporting staff as a team and providing fun activities to help lighten the stress of every day workload!
Q: What have you gained from working at Epic Care?
A: I have gained more knowledge and skills in areas that I was lacking, such as leadership and patient education. I have also gained a sincere appreciation for the team mentality fostered within Epic Care.
Q: What fictional family would you like to be a member of?
A: The Madrigals Family (Encanto) because they each have a unique gift to share with the world and a strong sense of family pride!
Q: What is your favorite holiday?
A: Christmas and Halloween. I love the Christmas spirit and beautiful decorations. I love Halloween because I get to see all the kids dressed in their costumes and I love haunted house!
Thank you, Cassie, for representing our Culture of CARE in all you do!