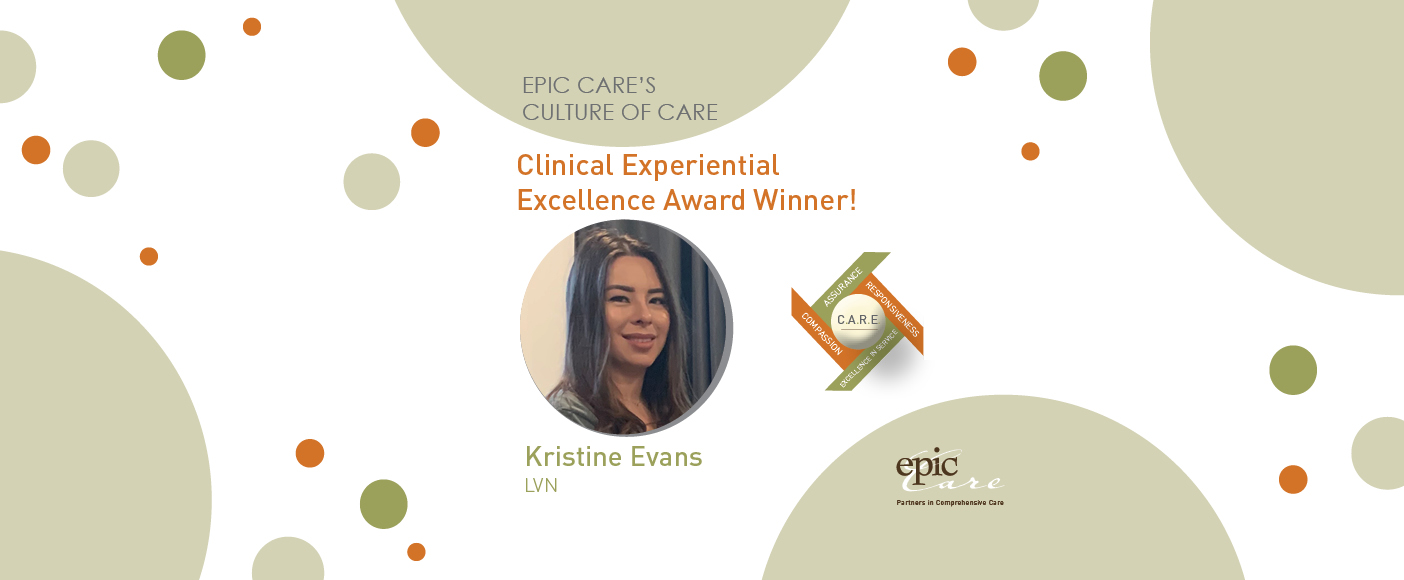 Epic Care's Culture of CARE Clinical Experiential Excellence Award Winner! – Kristine Evans
Congratulations Kristine, on winning our Culture of CARE Clinical Experiential Excellence Award! You're a shining example of the values we stand for.
Providing an excellent patient experience is vital to Epic Care's ability to fulfill our mission to deliver high-quality care and help our patients live healthier, happier lives. Through our Culture of CARE Clinical Experiential Excellence Award program, we create and enhance the collaboration amongst our physicians and clinical team members to achieve experiential excellence for our patients.
Kristine Evans is an LVN from our Castro Valley Care Center. Kristine is recognized for her contributions to helping her team and overall team spirit, no matter the task at hand. Kristine is always willing to help her team. She goes above and beyond and is friendly and cheerful to everyone she encounters. It's easy to see why staff and patients love her! Read on to learn more about Kristine:
Q: How long have you been with Epic Care?
A: Four years.
Q: What does our Culture of CARE mean to you?
A: For me, our Culture of CARE is about having meaningful and positive encounters. Even if it's a short visit, just having a smile on and remembering a little detail makes a huge difference.
Q: What is a lesson you have learned or the best piece of advice you've received from a patient?
A: Mistakes are a part of life, and the best thing you can do when you make one is to learn from it.
Q: You have to sing karaoke. What song do you pick?
A: Lean On Me – My son and I sing this together all the time.
Q: What was your least favorite food as a child? Do you still dislike it, or do you like it now?
A: I'm sure many people will agree with this one. I absolutely hated onions as a child but as an adult…I LOVE THEM!
Thank you, Kristine, for representing our Culture of CARE in all you do!