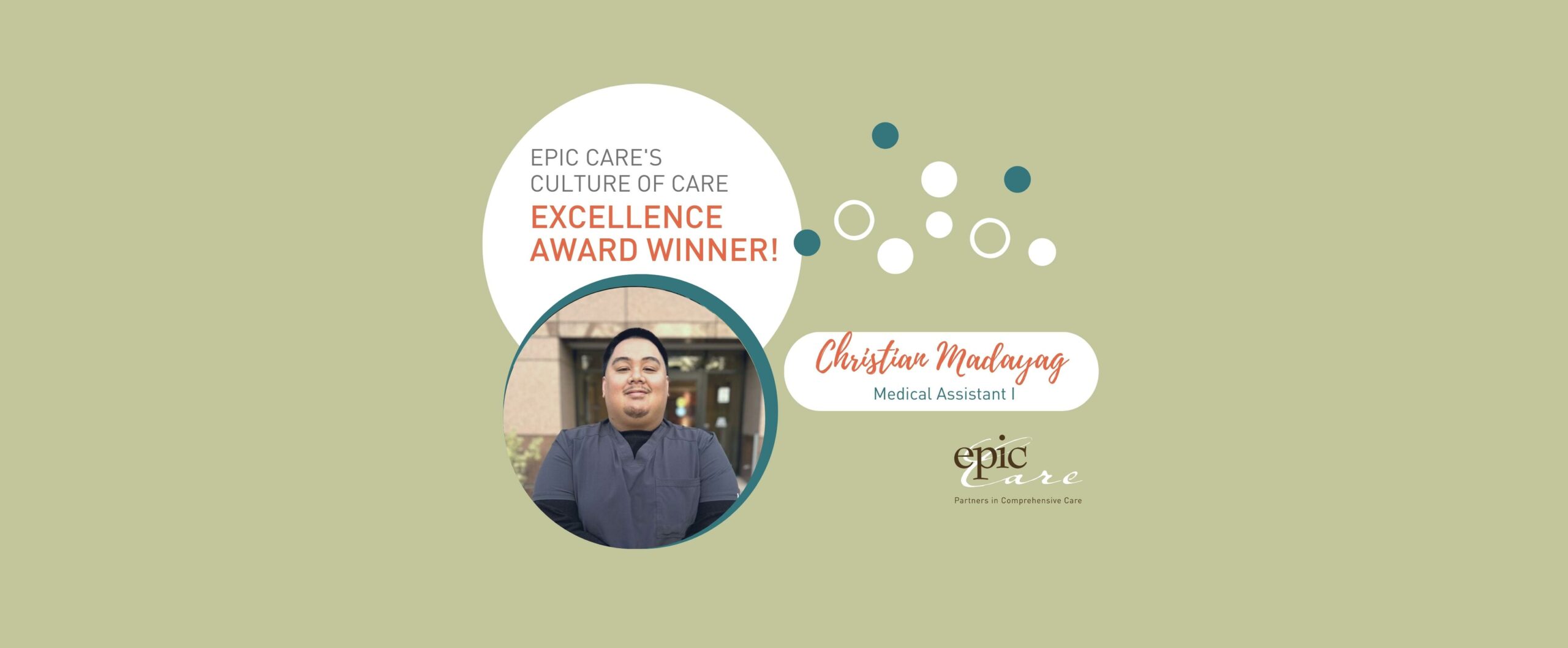 Epic Care's Culture of CARE Excellence Award Winner! – Christian Madayag
Congratulations, Christian, on winning our Culture of CARE Excellence Award! You're a shining example of the values we stand for.
Christian Madayag is a Medical Assistant I in our Pleasant Hill Care Center. Christian is being recognized for his outstanding performance! Christian is very personable and approachable and engages with all our patients. Christian is dedicated, hardworking, and dependable. Christian exemplifies what it takes to promote excellence in Epic Care's Culture of Care. We are grateful to have Christian on the team!
Read on to learn more about Christian:
Q: How long have you been with Epic Care?
A: I've been with Epic Care for a little over a year now. My one-year anniversary was just on February 8th.
Q: What does our Culture of CARE mean to you?
A: What Culture of Care means to me is that everyone is valued. Building relationships, whether with patients, colleagues, staff, or doctors, is very important because there would be no trust without any relationships.
Q: What is one thing you wish people knew about your job?
A: One thing I wish people knew about my job is that every patient has a different story. I am glad that patients can talk about their life and fascinating stories. I learn a lot from our patients and am very grateful for them.
Q: What is your standard office lunch?
A: We're fortunate to have pharmaceutical representatives bring us lunch, so we do not have to bring or buy our lunches most days.
Q: If you had a time machine, would you go back in time or into the future?
A: If I had a Time Machine, I would go back to the past during my childhood. I would go back because I had no worries during those times. My biggest worry would probably be a football getting stuck underneath a car and trying to scoop it out. Another reason I would go back is to cherish my times with my loved ones who are no longer here.
Thank you, Christian, for representing our Culture of CARE in all you do!