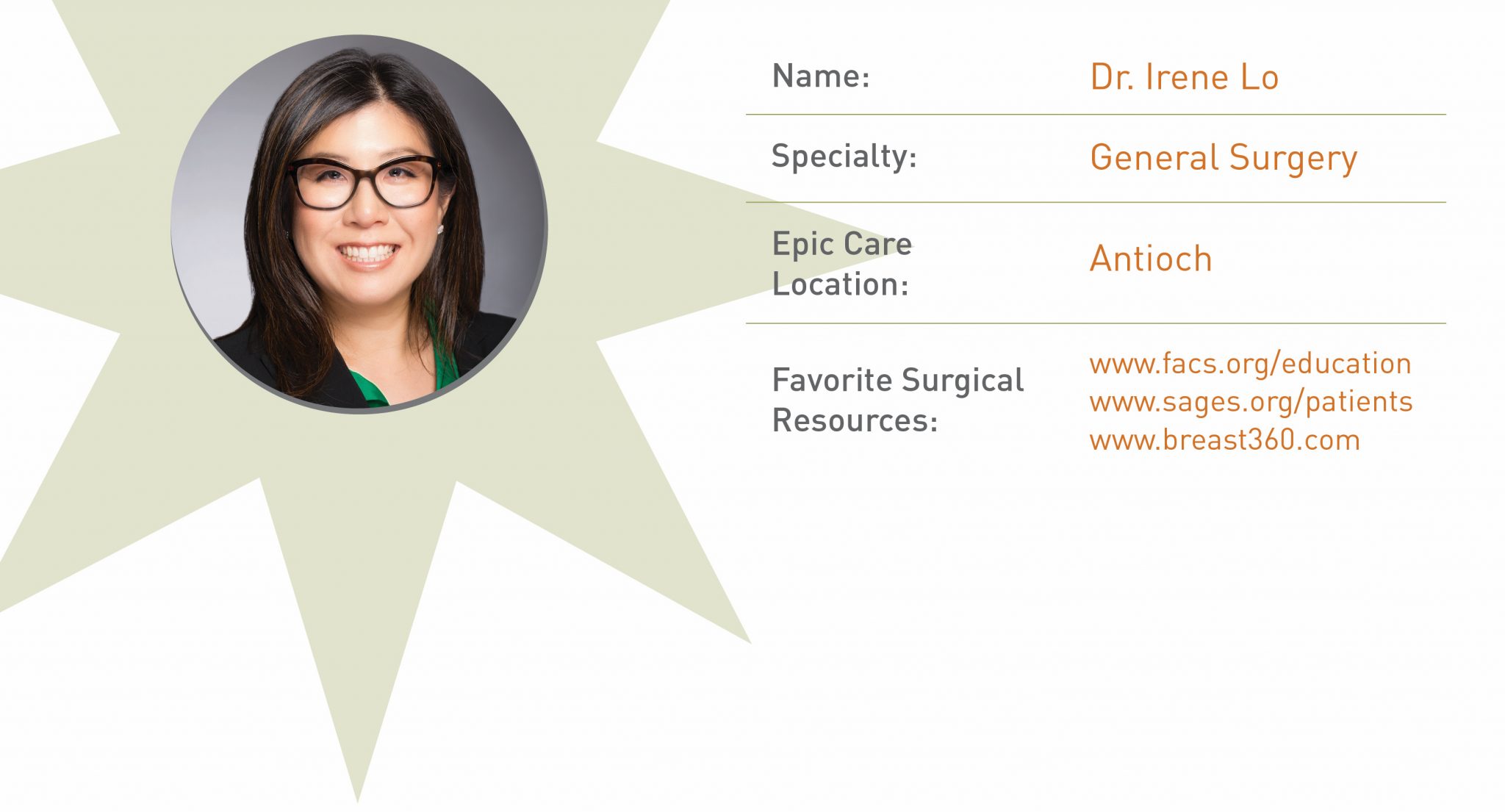 MD HIGHLIGHT: MEET DR. LO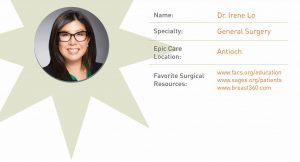 Dr. Irene lo is a highly skilled General Surgeon at Epic Care who is as energetic as she is kind and compassionate. Now practicing at Epic Care's Antioch site, her clinical expertise, technical skills, and high-quality outcomes are exactly what our patients seek when considering surgery.
When Dr. Lo is not in the operating room you can find her on a peloton bike, running a race to fundraise for cancer research and treatment, or helping to lead Epic Care in her physician leadership role as Medical Director of Surgery & Quality. Read on for more about Dr. Lo:
Question & Answer
Q: How do you prefer to start your day?
A: Ideally, I try to start my day with exercise; a bike ride, a run, or yoga. Exercise helps me center and ground myself before I face the day ahead. As Elle Woods said in Legally Blonde,"Exercise gives you endorphins. Endorphins make you happy."
Q: Why did you pursue a career in medicine?
A: When I was in middle school, my grandmother was diagnosed with Alzheimer's disease. Over time, I watched the disease take its toll on my grandmother, my grandfather, and the rest of my family. Eventually my grandmother passed away and it made a huge impact on me. It was then I realized I wanted to pursue a career in medicine, and more, help patients fight their disease and win. Being a surgeon allows me to do this in a hands-on way. With every patient I see smile after surgery — whether it be from relief of their bothersome gallbladder or frightening breast cancer removed — I know I've chosen the right career. I have made someone feel better and that's a win!
Q: Tell us more about your experience as a surgeon?
A: During my first surgery rotation as a third-year medical student, I fell in love with surgery. In fact, I took a year off in medical school to perform clinical research in liver transplantation to gain more surgical experience. Assisting many donor procurement surgeries and liver transplant surgeries reinforced my passion. Soon after graduating medical school I also completed a residency in general surgery followed by a one-year fellowship in advanced GI minimally invasive and bariatric surgery gaining experience in advanced laparoscopic and robotic surgery. Even now, as a practicing surgeon, I continue to learn and grow so I may remain well-rounded and technically advanced.
Q: What do you love about what you do?
A: I love my patients. No patient or surgical issue is the same. I truly enjoy the patient and physician relationship from beginning to end. As a physician I closely collaborate with my patients on their healthcare, help guide them through their disease process, perform surgeries to treat and heal, and provide support through it all.
Q: How do you determine the most ethical and accurate treatment plan for each patient?
A: It all starts with building a collaborative and trusting relationship with my patient. I prioritize learning about the patient, their medical and surgical history, their disease process, and their treatment priorities. With this information, I can then use my clinical knowledge, experience, and surgical training to determine what treatment options are appropriate for that particular patient. Each patient is different. Each disease process is different. Each surgery is different. Together with my patient, we work to figure out what is the right surgery for them and their disease process.
Q: How has COVID-19 changed the way you approach patient care?
A: We remain committed to providing high-quality care for our patients, but have had to pivot how we deliver care in the face of the pandemic. To keep our patients, staff, and providers safe we implemented screening protocols at each practice, advocate the use of masks or facial coverings, and use telemedicine or video visits to reduce risk and increase access to care. Still, we recognize there's more questions than answers with COVID-19, so to protect our surgical patients we critically weigh the risk and benefits of surgery for each patient and test them for COVID-19 prior to surgery.
Q: Outside of the operating room how do you advocate for our patients and the community?
A: Volunteering has always been a huge part of my life. Now, as a physician and surgeon, I have combined my career and volunteering interest to advocate for our patients and the community. For over 15 years I have volunteered with the American Cancer Society (ACS) and now serve as ACS Vice Chair of the Northern California Northern Nevada Area Board. I'm grateful for this role and actively participate in many ACS events, including Relay for Life and Making Strides Against Breast Cancer. As a surgeon, I see first-hand how our cancer patients are positively impacted by the programs, fundraising efforts, support, advocacy, and research provided by organizations like ACS and am proud to be part of an organization that supports them.