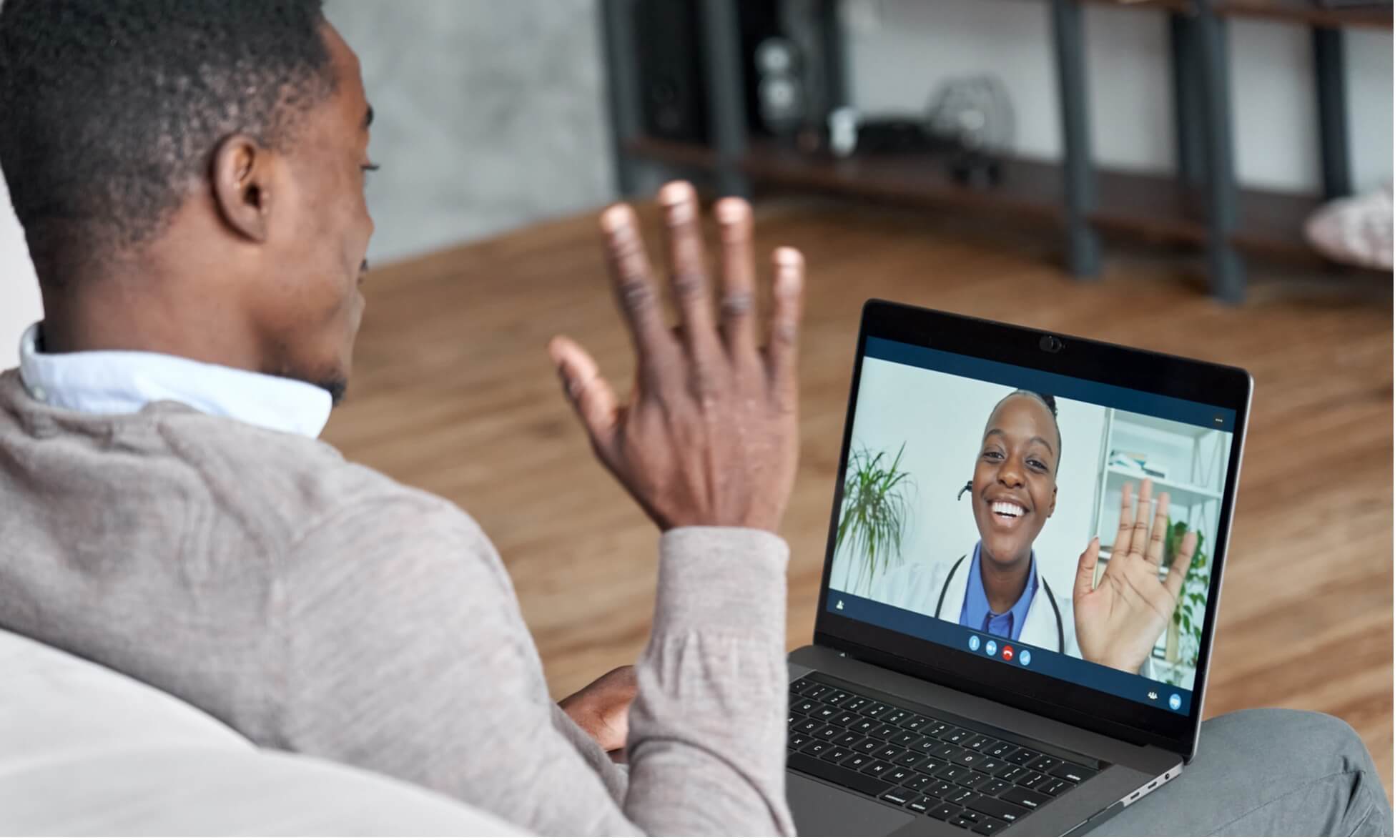 Sign In, Sit Back And Relax: Your Telehealth Visit Will Begin Soon
For many patients, access and availability have long been two of the biggest challenges with the American health care system. But now, thanks to telehealth programs like Epic Care's, you're just a few clicks away from top-notch medical care.
Epic Care continues to stand at the forefront of this convenient modern offering, which landed in the spotlight in 2020 as more people turned to it for care during the coronavirus pandemic.
In telehealth, medical professionals use technology – specifically, electronic and telecommunications devices – to treat patients and offer other health care services from a distance. Doctors can send and receive messages to patients through telehealth platforms, but one of the most prominent aspects of telehealth is telemedicine. In telemedicine, a care provider uses technology, usually a live video call, to meet with a patient for a virtual visit.
"In the past, telehealth and telemedicine were mostly used for patients who lived in rural areas, didn't have easy access to doctors and would otherwise have to travel a long distance for a medical appointment," the American Cancer Society explained. "More recently, they are being used for patients who live anywhere."
Telehealth during the pandemic
The use of telehealth for medical appointments soared over the past year because of COVID-19. As people quarantined during the pandemic, they chose to use telehealth to meet with care providers and receive necessary care from the safety of their homes, rather than having to risk going out into public spaces.
Statistics show just how important telehealth has become since the emergence of the coronavirus. Almost 25 million Medicare beneficiaries got telehealth services from mid-March to mid-October of 2020, and Medicaid and CHIP beneficiaries used telehealth to receive 68 million services in that time, according to the American Medical Association.
Uses of telehealth
While medical professionals still must take care of some needs and concerns in person – such as imaging, vaccinations and serious symptoms like chest pain – they can address many general concerns through telehealth.
Epic Care providers offer telehealth services and consultations for internal medicine, surgery, radiation oncology and more. During a telehealth appointment, they will discuss your medical concerns and symptoms, and they might even be able to diagnose and treat you, depending on your situation. You can chat about your treatment, prescriptions, referrals and other topics.
"You may still need to be seen in person, depending on your illness or injury, and a telemedicine visit will help you and your doctor decide if and where to seek additional care," the American Academy of Family Physicians (AAFP) noted.
The American Cancer Society says cancer patients and survivors, in particular, may want to use telehealth for several purposes, such as checkups between treatments, learning about a new medicine or procedure and getting advice from a palliative care specialist, among others.
Benefits of telehealth
For your per-scheduled telehealth visit, you'll want to have a high-speed internet connection, and Epic Care recommends settling into a quiet space. From there, logging in is easy. Using a computer or mobile device, simply visit Epic Care's website and select your doctor's name from the telehealth list. Then, enter your name, check into the appointment and turn on your camera. Your doctor will soon join the chat, and you'll be on your way to better health in no time.
The perks continue even after you finish your visit. The details of your appointment will go into your medical chart, and your provider will use your electronic medical record to deliver new prescriptions, testing requests, referrals and more.
Telehealth offers numerous benefits beyond the ease and comfort of visiting with a care provider from home. According to the American Hospital Association, "virtual care technology saves patients time and money; reduces patient transfers, emergency department and urgent care center visits; and delivers savings to payers." Visits typically are billed to and covered by health insurance plans, and you may need to pay a copay. Medicare Part B also covers select telehealth services.
One of telehealth's main advantages is its convenience. For patients with compromised immune systems or those who are fighting diseases such as cancer, telehealth can prove truly invaluable. Rather than risk heading out in public and potentially exposing yourself to other illnesses, you can stay home – and stay protected – while still getting to meet with your Epic Care physician.
Patients who live in rural areas may have limited options for health care, but telehealth "opens the door to more doctors and more specialists," according to the AAFP. Telehealth allows for better management of chronic diseases, the organization added, as "it may be easier for you to keep your appointments because of the convenience telemedicine offers." If you're on vacation, caring for children or an elderly person, or you just simply can't take time off from work to see a doctor in person, Epic Care's telehealth can help you.
Epic Care has more than 50 medical professionals available to meet with you through its telehealth program. So, turn on your camera, sit back and relax. Your Epic Care doctor will be with you soon.